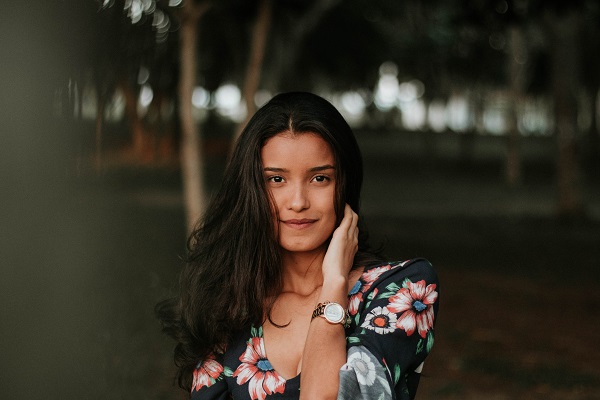 We live in a diverse culture. We are a gumbo of humanity which offers distinct heritages, races, and customs, and different backgrounds and cultures can unite to form an exceptional community which offers something unique for everyone. Dr. Sajjadian's knowledge and expertise in ethnic rhinoplasty will do just that.
Latino or Hispanic refers to people with Central and South American, Portuguese and Spanish heritage, as well as Caribbean countries like the Dominican Republic, Costa Rica, Cuba, and Puerto Rico.
Within the population of Southern California and beyond, many patients require the expertise of a plastic surgeon who has extensive experience in rhinoplasty surgery. Although this surgery requires an understanding of different nasal structures among different ethnicities, triple-board certified plastic surgeon Dr. Ali Sajjadian can deliver amazing rhinoplasty results to all of his patients no matter their heritage.
Hispanic patients are unique because of subtle anatomic considerations like a thick skin, nostril position and flare, and nose structure different than other ethnicities. Dr. Sajjadian understands these distinctions and the techniques necessary for a successful procedure.
What is Hispanic Rhinoplasty?
More than 50% of population growth of the United States in the first decade of the 21st century was an increase in the Latino population. Although Hispanics don't represent the fastest growing ethnic group in the USA, they are still the largest minority, making them important to the plastic surgeons, especially in southern California.
Rhinoplasty is the most common facial plastic surgery performed worldwide, and Orange County and Newport Beach are not an exception. With this popularity comes an increased understanding that rhinoplasty cannot be a "one-size-fits-all" procedure, but rather requires a surgeon well versed in helping ethnic patients resolve their unique nose issues.
Hispanic rhinoplasty is cosmetic nose surgery with a focus on Hispanic anatomy. Many of our patients hail from all parts of the United States, Mexico, South America, and beyond and have a Latino heritage. As with all forms of rhinoplasty, understanding the common challenges within this special anatomy is crucial because it varies greatly from other ethnicities as well of those within the same category.
You could say a Latin heritage has diversity within itself with different regions having different anatomical traits. Patients of Central and South American heritage have distinct features from those with primarily a Spanish background. The various nose types typical for Hispanic rhinoplasty are:
What is trending in rhinoplasty surgery is a shift from the traditional aggressive procedures to a surgery where ethnic features are taken into consideration and preserved. There is no exception with the Mestizo patient. A step-by-step structural approach is necessary for positive results.
Mestizo means a "mixture of races." They are a blend of the indigenous tribes which inhabited the local regions of the continent, Europeans (mostly Spanish) who conquered the lands in the 15th century, and Africans which were brought over with the slave trade. More European immigrants during World Wars I and II complete the mixture.
The Mestizo patient has a combination of European and Native American features with a wide tip and broad, thick skin. Dr. Sajjadian uses grafting and sutures to define nasal features and reinforce support structures resulting in satisfactory, long-term results. This type is considered the most challenging to improve aesthetically.
This nose type is of Spanish origin with some Caucasian mixed in as well. It has a high bridge and a normal tip projection. Dorsal reduction and tip revision are typically necessary for addressing aesthetic concerns.
The Castilian nose has a weighty effect on the balance of the patient's facial features. While a prominent nose can make the chin look recessed or small in profile, a resizing of the nose will bring the patient's chin into proportion with the rest of the face. This technique is often necessary with the Castilian type nose.
The Mexican-American nose is a mixture of the Mestizo's nose and Castilian nose. It typically has a low radix (the root), a normal bridge, and a drooping tip. Grafting the radix or dorsum and revising the tip is a common technique.
Hispanic noses possess an array of unique features when comparing them to Caucasian noses. They are wider, with a more bulbous tip, wider nostrils, and have thicker skin. They also have drooping tips with weak cartilage.
The Hispanic nose tends to have weak, soft cartilage in the nasal tip and a tip which droops. These features require a cartilage graft to achieve optimal levels of support and refinement. Dr. Sajjadian tailors his rhinoplasty experience to provide lift and definition for cosmetic improvements while retaining the unique Latin structure and character.
The Hispanic patients who consult us about rhinoplasty typically request a narrower base, a defined tip, and narrower nostrils. Dr. Sajjadian adapts each surgery to the patient's unique facial anatomy. He also employs the latest technologies and most advanced instruments to achieve precise results with minimal downtime and recovery.
These results include a more rounded cheek and facial presence when compared to Caucasians, with the nose in complete harmony with the larger facial features. Although request comes for a Caucasian nose on a Hispanic patient, these results would look unnatural as the computer imaging will show. Because facial structures differ between Latinos and other ethnicities, a more refined nose is an optimal outcome.
Goals and Challenges of Hispanic Rhinoplasty
There are certain features of the Hispanic nose which make this ethnic rhinoplasty a challenge. By utilizing a similar technique for Asians and African Americans, Dr. Sajjadian can take stronger cartilage from other facial parts to support the tip and the columella. Supporting the tip is the most important goal, once this is accomplished he can move to the next steps to a successful procedure including tip projection, refinement, rotation, and resistance to fall with age.
Once Dr. Sajjadian supports the tip, other improvements are possible like reducing flaring nostrils, narrowing the bridge, reducing the bump, and improving the profile.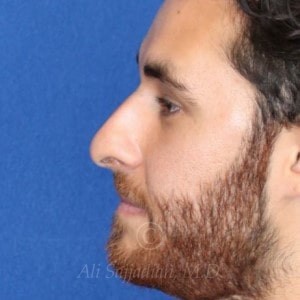 The Hispanic Rhinoplasty Procedure
While performing Hispanic rhinoplasty, Dr. Sajjadian fortifies the cartilage which makes up the tip of the nose. He achieves this fortification by grafting cartilage from the patient's nasal septum, rib or ear. The graft will allow the nasal cartilage to provide enough support for the thick skin. The reshaping of cartilage requires reducing the width and shaping a less rounded tip while preserving the patient's natural Hispanic features.
When a patient has a high dorsal bump at the bridge of the nose, Dr. Sajjadian will remove any unnecessary bone and cartilage while smoothing the area. To improve the appearance of flared nostrils and a wide base, he may need to remove soft tissue which borders the nostril outline at its base. Removing a portion of soft tissue at the bottom edge of the nostrils may also be necessary.
Then the edges of the nose can be sutured together along the nasal midline to achieve narrower nostrils with less flare. It's key to make sure any alterations to the base and the dorsal hump are subtle, so they come together seamlessly. This process will maintain the correct balance of face and nose.
Keys to a Successful Hispanic Rhinoplasty
Retaining the Ethnic Features – Most patients want to retain their cultural traits but improve nose contours and facial appearance.
Enhancing Facial Harmony – the patient's bone structure, aesthetic contours, gender, ethnicity, and facial dimensions will determine their degree of facial harmony. It requires the nose to be compatible with other facial features. Dr. Sajjadian has extensive expertise, and technical knowledge necessary to create harmony which is appealing and in harmony with other facial features.
Maintaining Nasal Function – Because Dr. Sajjadian has extensive experience in also maintaining the stability of the nasal structures which is necessary for open air flow, he offers expert experience in maintaining or improving the patient's ability to breath correctly.
Patient Satisfaction – Although the perfect nose is not possible, Dr. Sajjadian is committed to his patients being more than satisfied with the function and aesthetics of their rhinoplasty results. He believes patient satisfaction starts with the consultation. He wants to understand the goals and needs of each patient while communicating effectively what is and what isn't possible with their procedure. With computer imaging and his extensive knowledge of anatomy, he can show the patient what they can expect from their results. During this process, you and Dr. Sajjadian can formulate a surgical plan together, with your input welcome.
Having a full understanding of the surgical experience will allow you to understand the surgical experience fully. Because rhinoplasty offers unique challenges with each patient, your specific goals may take some effort to understand as will the specific keys to a successful procedure is met. Once this happens, however, Dr. Sajjadian will be able to meet and exceed the goals determined during the consultation process.
When choosing Dr. Sajjadian, Hispanic rhinoplasty patients can be confident in achieving outstanding, long-lasting results. Ethnicity aside, rhinoplasty patients share the common goal of eliminating unwanted attention from their nose. Rhinoplasty should allow the nose to enhance facial appearance with more focus on other features like the skin and eyes. When the keys to successful rhinoplasty or met, the results will reflect a natural appearance, not one which looks "done" or artificial. The patient will look like before, only better.
Dr. Sajjadian is one of the most qualified plastic surgeons in America. With a focus on facial plastic surgery, he is board-certified by three institutions; American Board of Plastic Surgery, American Board of Otolaryngology, Head and Neck Surgery, and the American Board of Facial Plastic and Reconstructive Surgery.
With these achievements, he is well recognized in Newport Beach, Orange County and around the world as an expert in plastic and reconstructive surgeries of the face and body.
Dr. Sajjadian has countless Hispanic patients who come to him seeking a nose job. His practice has a special focus on ethnic rhinoplasty and strives to give these patients the results and care they deserve. He is the past president of the Orange County Society of Plastic Surgeons and current president of the Rhinoplasty Society.
He has traveled the globe as a highly sought-after trainer, teacher, and speaker of ethnic rhinoplasty procedures. He is also recognized as Patient's Best Choice Awards and America's Top Plastic Surgeon for several years running.
To find out more about Hispanic rhinoplasty, call our Newport Beach office at (949)-515-0550, or Contact Us.