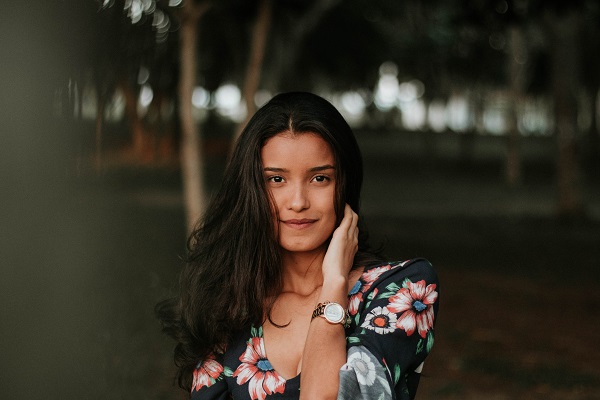 America has historically been a melting pot and a welcoming beacon for people from different races, backgrounds, and cultural traditions. Today, many people want to make a cosmetic improvement while still preserving their unique heritage, and Dr. Ali Sajjadian's knowledge and expertise in ethnic rhinoplasty helps them accomplish these goals.
In Southern California and beyond, rhinoplasty remains a consistently sought-after surgical procedure. However, it is also the most technically complex plastic surgery to perform, as it involves functional and aesthetic improvements. It also requires an understanding of various nasal structures among different ethnicities. As a triple-board certified plastic surgeon, Dr. Sajjadian can deliver excellent rhinoplasty results to all his patients, regardless of their heritage.
Today's rhinoplasty surgeons carefully consider and preserve ethnic features instead of giving everyone a cookie-cutter outcome. Latino and Hispanic patients are unique because of subtle anatomical considerations like skin thickness and nostril position and flare. Rhinoplasty cannot be a "one-size-fits-all" procedure, but requires a surgeon who is well-versed in helping all patients resolve their unique concerns. Dr. Sajjadian understands these distinctions and the techniques necessary for a successful procedure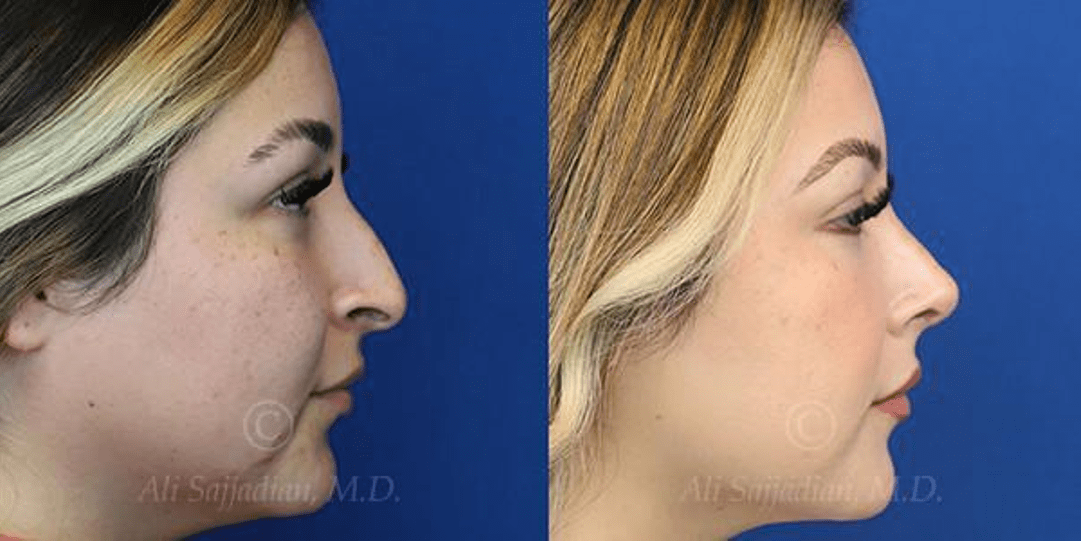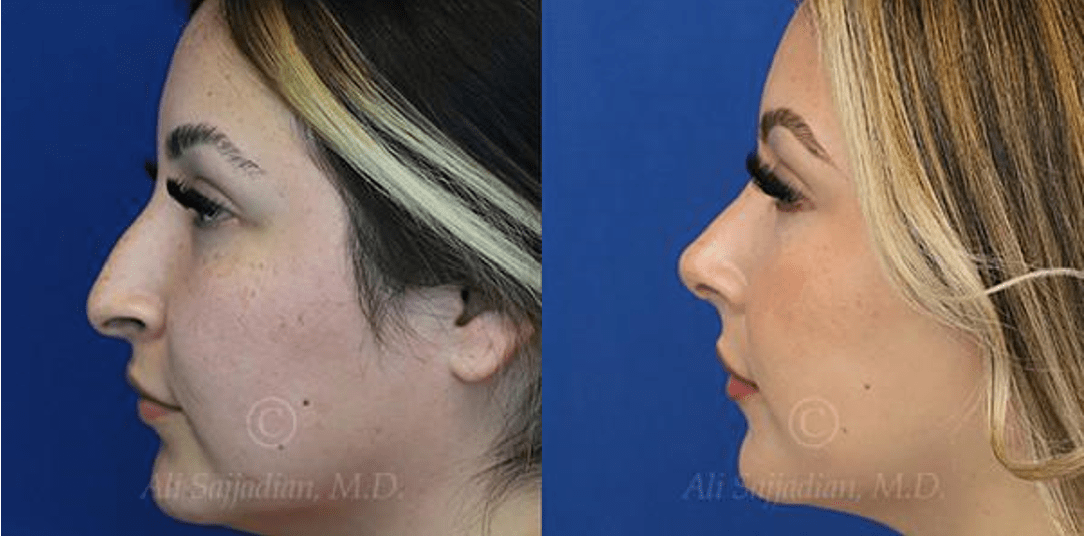 Click here to see more results!
What is Hispanic Rhinoplasty?
Hispanics and Latinos are the largest minority group in the U.S., and an integral part of the cultural fabric of Southern California. Many of our patients have roots in Mexico, South America, and beyond. Understanding the common challenges of Hispanic and Latino patients is crucial because they vary significantly from other ethnicities.
Latino heritage is diverse, and various regions have different anatomical characteristics. For example, patients of Central and South American heritage have distinct features from those with primarily a Spanish background. The various nose types typical for Hispanic rhinoplasty are as follows.
Mestizo
Mestizo means a "mixture of races." People in this ethnic group are a blend of the Indigenous tribes who inhabited the local regions of the continent, Europeans (primarily Spanish) who conquered the lands in the 15th century, and enslaved Africans. More European immigrants during World Wars I and II complete the picture.
Mestizo patients have a combination of European and Indigenous American features with a wide nasal tip and thick skin. Dr. Sajjadian uses grafting and sutures to define nasal features and reinforce support structures, resulting in satisfactory, long-term results.
Castilian
This nose type is of Spanish origin, with some Caucasian mixed in. It has a high bridge and a normal tip projection. Dorsal reduction and tip revision are typically necessary for addressing aesthetic concerns.
Castilian noses often require downsizing to bring patients' chins into proportion with the rest of their faces.
Mexican-American
The Mexican-American nose is a mixture of the Mestizo and Castilian noses. It typically has a low root, a typical bridge, and a drooping tip. Grafting the root or dorsum and revising the end is a common technique.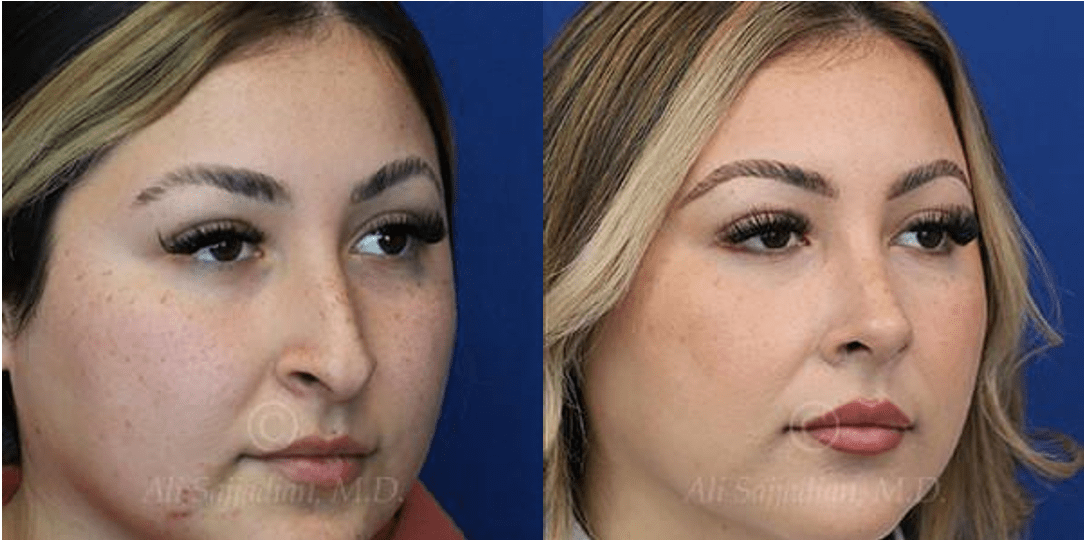 Click here to see more results!
Hispanic noses possess an array of unique features compared to Caucasian noses. They frequently feature bulbous tips, wider nostrils, and thicker skin.
Hispanic noses tend to have weak, soft cartilage in the nasal tip, causing drooping. These features require a cartilage graft to achieve optimal levels of support and refinement. Dr. Sajjadian tailors his rhinoplasty experience to provide lift and definition for cosmetic improvements while retaining the unique Latino structure and character.
Typically, Hispanic patients who consult us about rhinoplasty request a narrower base, a defined tip, and narrower nostrils. Dr. Sajjadian adapts each surgery to the patient's unique facial anatomy. He also employs the latest technologies and most advanced instruments to achieve precise results with minimal downtime and recovery.
If a patient of Latino heritage requests a Caucasian nose, the results would look unnatural, as computer imaging will show. Because facial structures differ between Latinos and other ethnicities, a more refined nose is optimal.
Goals and Challenges of Hispanic Rhinoplasty
All rhinoplasty surgery is challenging, but reshaping a nose while preserving its unique characteristics and ethnic heritage brings an extra degree of difficulty to the procedure. Supporting the tip and columella are priorities. Having accomplished these, Dr. Sajjadian can complete the other steps necessary for a successful procedure, including refinement, rotation, and resistance to falling with age.
Additional improvements are possible, like reducing flaring nostrils, narrowing the bridge, reducing the bump, and enhancing the profile.
The Hispanic Rhinoplasty Procedure
While performing Hispanic rhinoplasty, Dr. Sajjadian fortifies the cartilage with a graft taken from the patient's nasal septum, rib, or ear. The graft will allow the nasal cartilage to support the thicker skin. Cartilage reshaping requires reducing the width and shaping a less rounded tip while preserving the patient's natural Hispanic features.
When a patient has a high dorsal bump at the nasal bridge, Dr. Sajjadian will remove any unnecessary bone and cartilage while smoothing the area. To improve the appearance of flared nostrils and a broad base, he may need to remove a portion of soft tissue. Then, he can suture the nose edges along the nasal midline to achieve narrower nostrils with less flare. Again, it's vital to ensure any alterations to the base and the dorsal hump are subtle so they come together seamlessly. This process will maintain the correct balance of the face and nose.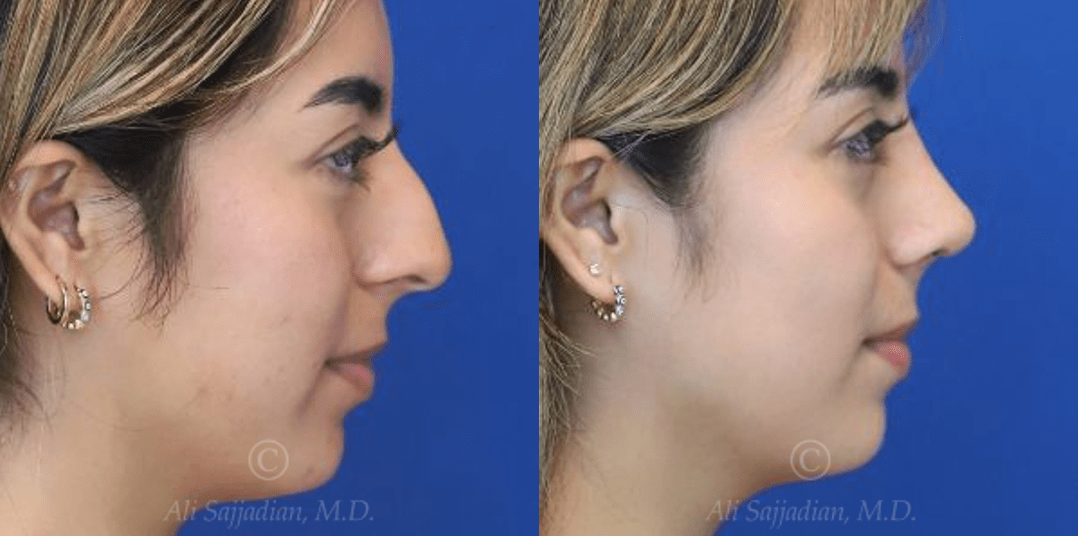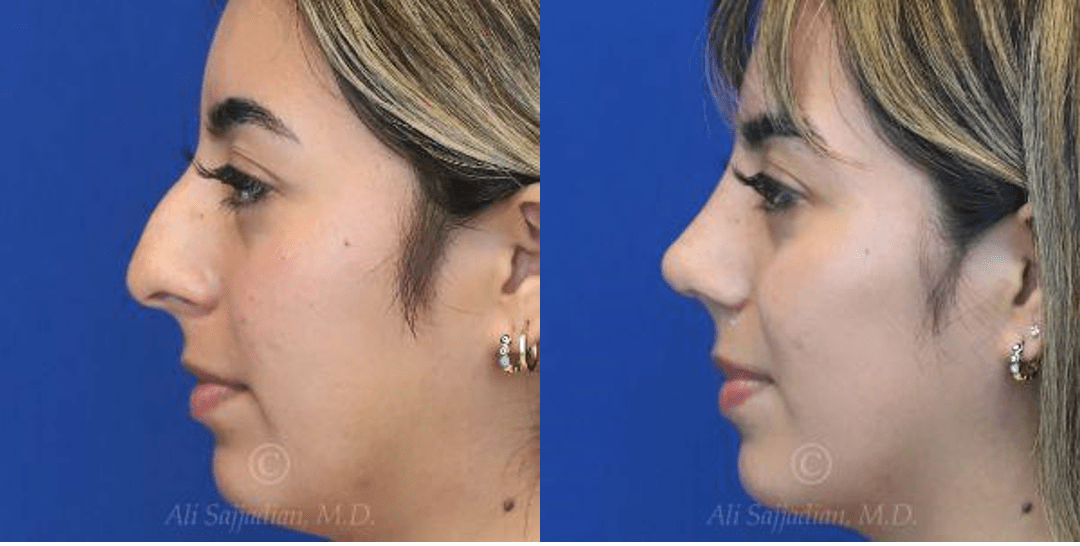 Click here to see more results!
Keys to a Successful Hispanic Rhinoplasty
Latino patients often request an approach that slims their nose shape and reduces tip size while creating a straight side profile. Since Hispanic patients' facial shape and structure are unique, it's essential to work with a surgeon familiar with this rhinoplasty style.
Essential elements in a successful Hispanic rhinoplasty include the following.
Retaining ethnic features: Most patients want to maintain their cultural traits while improving their nose contours and appearance.
Enhancing facial harmony: The patient's bone structure, aesthetic contours, gender, ethnicity, and facial dimensions will determine their degree of facial harmony. Dr. Sajjadian has the technical knowledge necessary to create an appealing balance with other facial features.
Maintaining nasal function: Because Dr. Sajjadian has extensive experience in maintaining the stability of the nasal structures, he offers expert knowledge in maintaining or improving breathing ability.
Patient satisfaction: Sajjadian goes above and beyond to ensure his rhinoplasty patients appreciate their nasal function and aesthetics. He believes patient satisfaction starts with the consultation. He takes time to understand each patient's goals and needs, while explaining what is realistically possible with their procedure. Then, he can use advanced computer imaging to give you a preview of what to expect. Throughout the process, you and Dr. Sajjadian can formulate a surgical plan together, with your input welcome.
Because rhinoplasty offers unique challenges for each patient, your specific goals may take some effort to understand. However, once this happens, Dr. Sajjadian can develop a customized surgical plan that meets or exceeds the goals you outlined during your consultation.
Hispanic Rhinoplasty Recovery and Side Effects
Dr. Sajjadian typically performs all rhinoplasty surgery as outpatient procedures, which means you can go home on the same day to start healing.
After surgery, you may experience some nasal congestion, localized bruising and swelling, and minor discomfort. Dr. Sajjadian and his team will provide you with a detailed aftercare plan to ease these symptoms and facilitate a more comfortable recovery.
Typically, most rhinoplasty patients feel healed enough to return to work about one to two weeks after surgery. However, this timeline will vary depending on the extent of your surgery and other individual factors.
Even in this final stage of your surgical journey, Dr. Sajjadian strives to provide comprehensive care and support to ensure optimal recovery. In addition, he will personally monitor your post-op progress through regularly scheduled follow-up appointments, beginning on the first day up to a year or more after your surgery.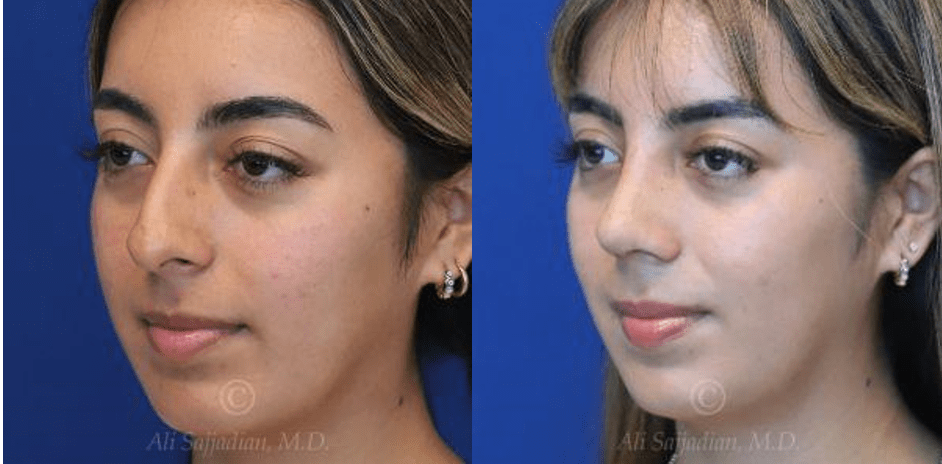 Click here to see more results!
Why Choose Dr. Sajjadian?
When choosing Dr. Sajjadian, Hispanic rhinoplasty patients can confidently achieve outstanding, long-lasting results. Ethnicity aside, rhinoplasty patients share the goal of eliminating unwanted attention from their noses. Rhinoplasty should create a harmony among facial features. By entrusting Dr. Sajjadian to perform your procedure, you can feel confident your results will reflect a natural appearance, not one that looks "done" or artificial. You'll look like yourself, only better.
Dr. Sajjadian is one of the most qualified plastic surgeons in America. With a focus on facial plastic surgery, he has earned board certification from three institutions: the American Board of Plastic Surgery, the American Board of Otolaryngology (Head and Neck Surgery), and the American Board of Facial Plastic and Reconstructive Surgery. He is the past president of the Orange County Society of Plastic Surgeons and the current president of the Rhinoplasty Society.
He has traveled the globe as a highly sought-after trainer, teacher, and speaker of ethnic rhinoplasty procedures. He has also earned recognition in the Patient's Best Choice Award and America's Top Plastic Surgeon for several years.
With these achievements, he is well-known in Newport Beach, Orange County, and worldwide as an expert in plastic and reconstructive surgeries of the face and body.
Dr. Sajjadian has worked with countless Hispanic rhinoplasty patients. His practice focuses on giving all patients the results and care they deserve.
To learn more about Hispanic rhinoplasty, call our Newport Beach office at (949)-515-0550, or contact us online.