Excellence in Non-Surgical Treatments
IPL Photofacial Newport Beach, CA
Patients searching for an effective treatment for rosacea, hyperpigmentation and poor skin texture often decide upon IPL Photofacial — an advanced skin rejuvenation procedure that incorporates state-of-the-art technology to improve skin condition. Dr. Ali Sajjadian is one of the few plastic surgeons to perform IPL Photofacial. He has helped hundreds of patients throughout the area, including Newport Beach and the surrounding Orange County communities.
IPL photofacial is one of the most advanced non-surgical skin rejuvenation treatments available. The sophisticated IPL technology penetrates deep below the epidermis, triggering blood vessels to constrict. It also encourages the production of collagen, giving patients younger-looking skin. 
Call our office today at (949)- 515-0550 or complete our online form to schedule a consultation.
A Guide to IPL Photofacials
Dr. Sajjadian begins every procedure by meeting with patients personally, listening to their concerns and creating an individualized treatment plan that addresses their unique needs. He also walks the patients through the procedure and answers any questions to ensure they feel comfortable and confident undergoing an IPL photofacial treatment.
During the procedure, Dr. Sajjadian gives patients protective goggles and applies a small amount of gel to the face to ensure even distribution. Then, he administers Intense Pulsated Light (IPL) technology to the surface of the skin. Depending on the patient's condition, Dr. Sajjadian can use filters to specifically target and improve certain skin concerns, such as hyperpigmentation. The entire procedure typically lasts 15 to 30 minutes, with the patient experiencing minimal discomfort.
Dr. Sajjadian recommends IPL photofacial patients follow up the procedure by applying unscented moisturizer to the face two to three times a day. He also suggests patients apply sunscreen and avoid sun exposure whenever possible.
Patients typically require three to five treatments at approximately four week intervals in order to achieve optimal results.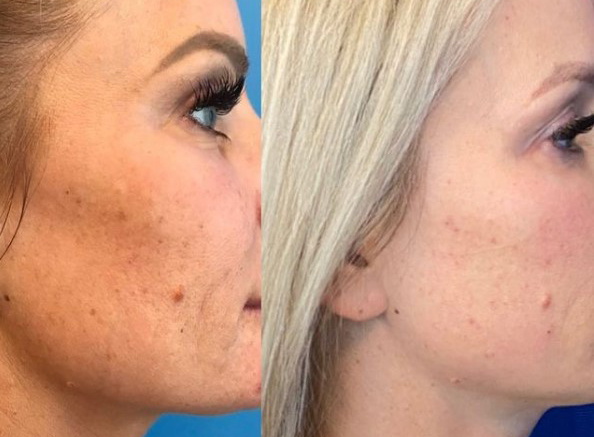 Expertise Meets Compassion
As a triple board-certified plastic surgeon, Dr. Sajjadian has helped thousands of patients reach their aesthetic goals using the most advanced techniques and upholding the highest quality of patient care. Voted as one of "America's Top Physicians," Dr. Sajjadian takes pride in educating his patients and achieving natural results.
Your IPL Photofacial with Dr. Sajjadian
Dr. Ali Sajjadian is committed to remaining at the forefront of cosmetic technologies and techniques. He is proud to be one of the few plastic surgeons to offer the benefits of IPL Photofacial — one of the most effective ways to treat rosacea, vascular complexion problems, hyperpigmentation and dull skin. Research has shown that proper administration of IPL Photofacial can improve the appearance of rosacea and vascular redness by up to 90 percent, a distinction few topical skin treatments can claim. In addition, it successfully improves the signs of aging with minimal downtime.
Dr. Sajjadian pursues surgical perfection and complete patient satisfaction. In order to enhance the results of surgical procedures, he sometimes recommends that patients undergo non-invasive treatments, such as chemical peel, microdermabrasion or laser skin resurfacing in Newport Beach and Orange County. Dr. Sajjadian also specializes in administration of facial injectables and is regarded as one of the most experienced experts in Newport Beach. Contact us to schedule a consultation.
IPL Photofacial in Orange County, CA FAQs