Excellence in Plastic Surgery
Cosmetic Treatments for Men in Newport Beach, CA
Although women choose cosmetic enhancement significantly more than men, the gap is narrowing. More and more men each year see the advantages of looking their best. Triple board-certified, Dr. Ali Sajjadian offers men a wide range of treatments to improve their quality of life. 
To learn how he can make you look your best for personal or professional reasons, contact us today for a consultation.
A Guide to Treatments for Men
For men self-conscious about their noses, Dr. Sajjadian offers surgical and non-surgical rhinoplasty to help the most prominent facial feature add balance to their appearance. Rhinoplasty allows men who are not completely happy with their nose appearance to enhance its size, shape, or function. It is also one of the most popular and complex plastic surgeries. That's why you need the services of the best rhinoplasty surgeon in Orange County to help you achieve the best possible results.
Expertise Meets Compassion
As a triple board-certified plastic surgeon, Dr. Sajjadian has helped thousands of patients reach their aesthetic goals using the most advanced techniques and upholding the highest quality of patient care. Voted as one of "America's Top Physicians," Dr. Sajjadian takes pride in educating his patients and achieving natural results.
A facelift can take as many as ten years off a man's facial appearance. The procedure has advanced significantly over several decades. Although non-surgical treatments like dermal fillers and Botox® offer temporary relief from lost volume and fine lines, a surgical facelift delivers more permanence.  It turns back the clock through the artistic hand of Dr. Sajjadian, whose patients enjoy stunning results. It is optimal for men of all ages, mostly ranging between forty and seventy.
Botox is the most popular cosmetic treatment worldwide, not only for women but men too. It freezes muscular movements so dynamic wrinkles and lines can be resolved. Crow's feet, forehead wrinkles, and lines between the eyebrows often disappear with this well-tested and proven procedure. Treatments are so quick they can be done during a lunch break.
These facial fillers replace volume lost due to age and gravity. Dr. Sajjadian employs multiple filler solutions to provide a tailored approach. These injections offer a significant key to undereye hollows, wrinkles, folds, and fine lines. Dr. Sajjadian can also help thin lips come alive with an attractive fullness.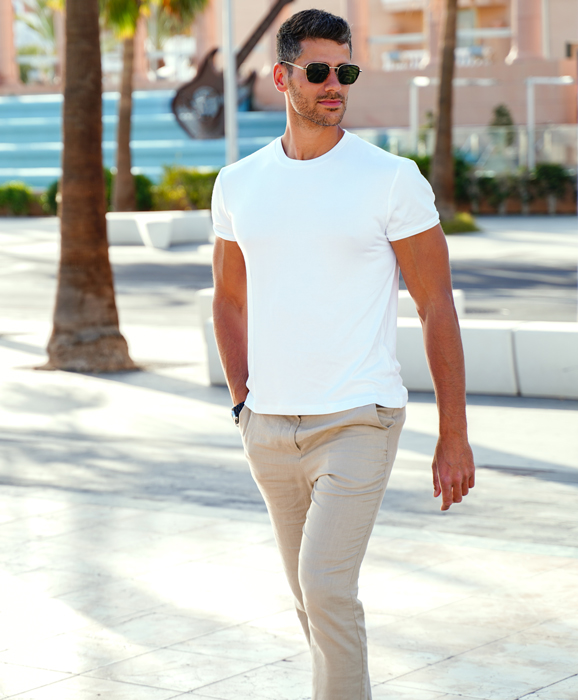 Liposuction is the most popular cosmetic surgery worldwide. It eliminates unwanted fat pads that diet and exercise ignore. This minimally-invasive operation sculpts the body in trobled areas like the abdomen, chest, and love handles.  Results are outstanding, and recovery minimal.
Male breast reduction for gynecomastia is the removal of a buildup of excess fat and/or breast tissue in the chest area. The operation treats enlarged male breasts by extracting excess breast tissue to deliver a manly physique and more self-confidence. Dr. Sajjadian is one of the few cosmetic surgeons in Newport Beach and Orange County to offer gynecomastia surgery for men who want to look their best in tight shirts or on the beach.
To learn more about Dr. Sajjadian's cosmetic treatments for men, contact our clinic by calling (949) 515-0550 or scheduling a consultation online.