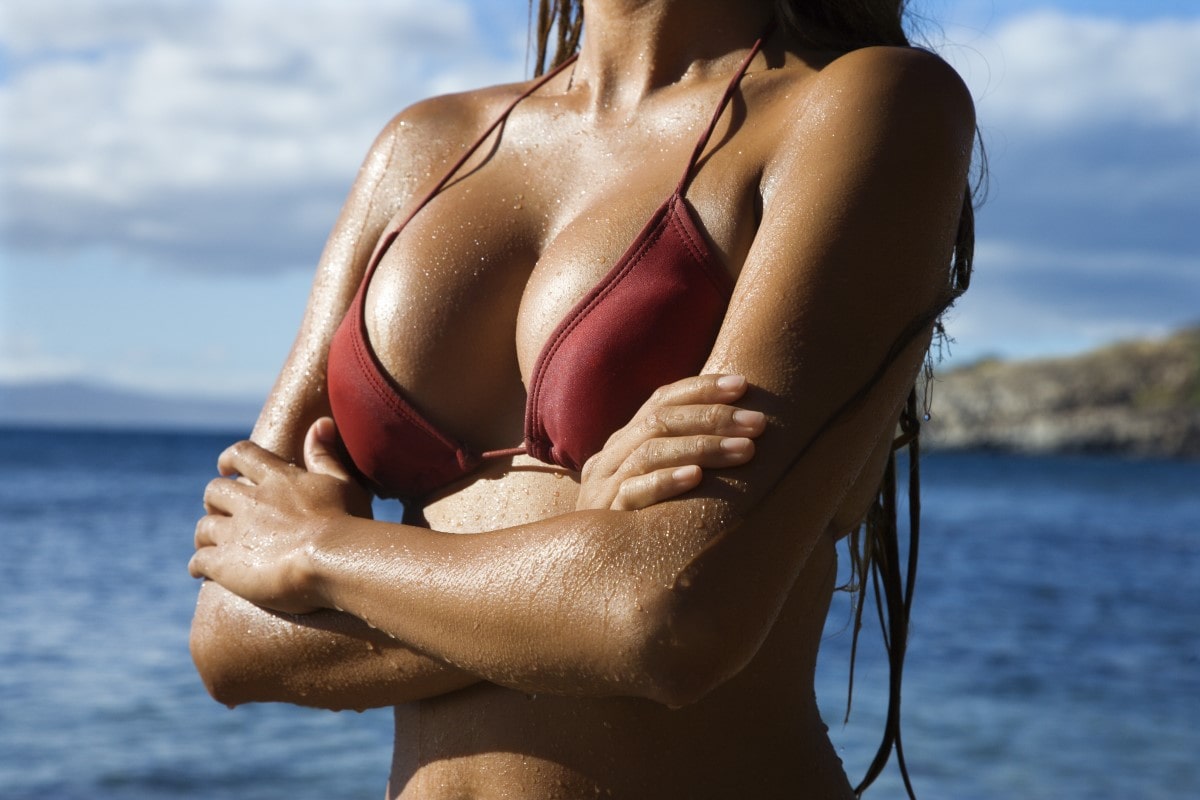 Breast surgery can change a lot about your life, including your clothing choices. That's especially true when you're looking for new swimwear. Women who want to look their best after breast surgery and show off their fabulous new contours should not only shop for fashionable swimsuits, but also ones that provide plenty of support in all the right places.
Choosing swimwear after breast surgery can be challenging, and you might not know how to select a well-fitting suit after breast augmentation, breast reduction, or an implant revision.
How to Pick a Swimsuit After Breast Augmentation
Breast augmentation will change your overall figure, and some parts of your pre-surgery wardrobe – like halter tops, lingerie, and swimsuits – won't always work with your new breast profile. When shopping for the best swimsuit tops after breast implant surgery, be mindful of support, coverage, and your improved body contours for the most flattering fit.
Breast Implants Support and Coverage
When searching for suits, consider your new cup size and body outline. Depending on your post-surgical breast size, you may need a bikini or bathing suit top that offers extra support, including banded halters or tops with wide or thick straps.
Banded halters typically have lined inserts that fit like a tube top inside the garment at the lining and a wide support band across the bottom of the cups. They offer seamless support and excellent lift for each implant. Halter tops allow you to adjust the amount of cleavage while providing support. Look for halter tops with thick straps that tie or preferably clasp in the back.
Some women with larger breasts choose a tankini top. Like a sports bra, a tankini top delivers added support and evenly distributes the weight across your shoulders. In addition, this style is available with many necklines for more choices in deciding how much cleavage you want to expose. These tops are great options if you have large implants or live a more active lifestyle.
Though underwire tops offer support and coverage and come in multiple sizes for optimal fit, Dr. Sajjadian does not recommend them if you have implants. If you're considering an underwire top, it is best to consult with him to ensure safety and optimal support for your implants and breasts.
Styles to Avoid
Stay away from bandeau tops, as they tend to make breasts look droopy and do not offer sufficient support. They also increase the chance of an embarrassing wardrobe malfunction! Triangle and spaghetti tops don't provide adequate support, so you should only wear them when lying down.
Shopping Tips
When shopping for a two-piece bikini, look for suits sold as separates, with tops available by cup size. These suits often come in sizes A through DD and up. Many stores sell their swimsuits like this, so you can purchase a top with a larger cup size and match it with a different bottom size. Try on plenty of tops, starting with the cup size you wore before your breast surgery. Every manufacturer sizes their clothes differently, so if you already have a brand you like, try similar suits made by the same label. You may also find swimsuits with padded inserts fit better with the pads removed.
When trying on a new swimsuit, make sure you can move around comfortably. Raise your hands, move your arms, and make swimming motions to learn how the different styles and sizes shift with movement and additional breast weight. Crucially, be sure you have the coverage you need to feel comfortable with your new body.
Playing Sports After Implants
Swimming after breast augmentation could feel slightly different, and you may find you need to change your stroke slightly. Many women who compete recreationally or professionally in swimming, climbing, or running have continued their active lifestyle after breast augmentation. Fortunately, most competitive swimwear options have excellent support and body-hugging comfort for your breasts.
Breast Implant Tip
If you're a swimmer, you may want to opt for a one-piece swimsuit after getting breast implants. You can find several flattering styles available. One option you might enjoy wearing after implants has a front zipper that lets you show a glimpse of your cleavage after you've finished taking laps around the pool. A front-zip style is easy to get in and out of when you need to change quickly before or after swimming.
Swimsuit Styles to Look for After Breast Surgery
Wear your swimsuit with confidence and inner beauty. If you feel good, you will look good.
Plunging V-necks: Flaunt your cleavage with a deep, plunging V-neck.
Balconette bikinis: Balconette styles are fabulous on most body types and shapes. They offer full support and give you a lift.
Push-up bikinis: Augmented breasts will need more support. A push-up top will give you a lift.
Halter tops: Look for wider straps that provide extra support for breast implants.
Tankinis: These suits are one of the most comfortable swimwear options available. If you are not comfortable revealing your new body yet, opting for a tankini is an excellent option to ease yourself into wearing a two-piece.
For more information regarding breast surgery or financing options, please contact our Newport Beach practice by calling (949) 515-0550.