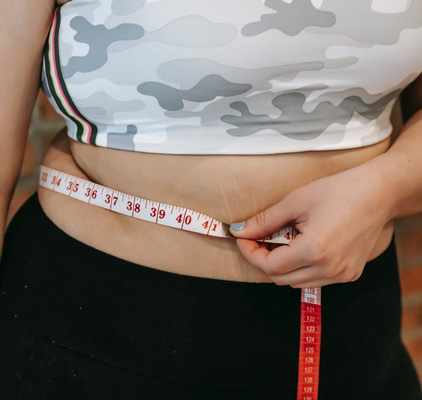 Losing significant weight after a diet and exercise regimen or bariatric surgery often leaves patients with lax skin and tissue, especially around the midsection. While most men and women have some level of skin elasticity, it's normal for individuals to struggle with this problem after losing considerable weight. In addition, sagging skin around the abdomen prevents patients from feeling confident about their appearance and can cause discomfort wearing smaller-sized outfits.
The good news is that a tummy tuck (abdominoplasty) addresses the final piece of this body sculpting journey, leaving you with a more pleasing body with or without clothing.
Abdominoplasty Explained
Our tummies are made to stretch, and stretch they do. Unfortunately, due to pregnancy, age, or gravity, the lower abdomen doesn't seem to respond entirely to diet and exercise. And no matter what one does to make stretch marks disappear, they are powerless to improve them. Unfortunately, whatever the skin condition, there's not much one can do to make it tighter or more pliable. Usually, genetics determine skin quality, thickness, and elasticity, all significant factors in stretched skin re-draping across a smaller abdomen.
A tummy tuck is a body-shaping surgery that eliminates loose skin from the abdomen. Tummy tucks are popularly performed surgeries by plastic surgeons to create satisfying results for patients who have lost substantial weight or women after pregnancy. In addition, patients tired of loose skin tissue on their tummies find this option to be the best solution to remove sagging and wrinkled skin, often referred to as a belly pouch. Abdominoplasty is the most common surgery for women who suffer from stretched and damaged skin after pregnancy.
Muscle Tissue Tightening
The abdominal wall can suffer from muscles stretched and weakened by the expanded girth. If muscle tightening is necessary to regain abdominal tone and firmness, Dr. Sajjadain can address this issue by pulling them into their normal position and reinforcing them with sutures. This process creates what many call the internal girdle. The muscle-tightening benefits of tummy tuck surgery will restore firmness to the abdominal wall adding tone to your tummy, creating a more pleasing figure.
In abdominoplasty for the lower abdomen only, Dr. Sajjadian performs an incision from one hipbone across to the other. Then, if both the upper and lower abdomen needs tightening (as they often do after one or more pregnancies), another incision is made circling the belly button.
Then, the skin and tissue are lifted away. Next, the abdominal wall (the muscles between the rib cage and pubic region or six-pack area) are pulled together and sutured tight. The belly button will then be repositioned. Next, the tissue and skin are re-draped over abdominal tissue, pulled tight, and stitched back into place. Any excess tissue is then removed.
Mini Tummy Tuck or Full Tummy Tuck
The tummy tuck and the mini tummy tuck involve Dr. Sajjadian removing excess fat and skin and may include liposuction. And the mini tummy tuck and the full tummy tuck can consist of repairs to the abdominal muscles, strengthening the wall and making it smoother and firmer.
And yet, there are a few key distinctions between the mini tummy tuck vs. full tummy tuck. The primary areas of difference include the length of the incision, the area repaired, recovery, and downtime.
Let's look at these variables individually.
Incision Length
Having a tummy tuck typically means getting a long incision. In fact, the standard incision will run from hipbone to hipbone, usually just below the bikini line. A second incision may be necessary near the belly button, allowing Dr. Sajjadian to tighten the skin in the upper and lower parts of the tummy.
A mini tummy tuck generally involves a single smaller incision. The positives are that when a mini tummy tuck is administered, you experience a smaller, easier-to-hide scar. However, when selecting a skilled and experienced board-certified plastic surgeon, even the more prominent scar left from a full tummy tuck can be hidden when strategically placed below the pubic line.
In other words, incision size and visible scarring are factors to consider. Still, they shouldn't prevent you from scheduling an abdominoplasty consultation.
The Size of the Area Repaired
Another critical distinction between the mini tummy tuck and a full tuck is the area to be repaired.
Mini tummy tucks involve smaller incisions, which is all fine as far as scarring. But keep in mind that this leaves less room for Dr. Sajjadian to work. Specifically, mini tummy tucks allow the removal of excess fat and skin laxity below the belly button. Nothing above the belly button will be changed.
As you consider mini tummy tuck and full tummy tuck benefits, it's critical to consider your cosmetic needs and goals. For example, a mommy makeover can help a mother regain her pre-pregnancy figure. In addition, a mini tummy tuck may be sufficient if the upper abdomen is not affected by childbirth. However, prolonged periods of obesity often make substantial improvements necessary, and a full tummy tuck is likely the best choice in this case.
Why Choose Dr. Sajjadian for Tummy Tuck?
Dr. Sajjadian is a double board-certified plastic surgeon. He has dedicated his practice to developing and implementing advanced techniques in cosmetic surgery. He strives to achieve minimal patient discomfort with improved outcomes that look natural.
Dr. Sajjadian has been recognized as a "Physician of Excellence" by his peers and the Orange County Medical Society. He has also been honored as co-chair of educational symposiums by the American Society of Plastic Surgeons (ASPS) and the American Society for Aesthetic Plastic Surgery (ASAPS).
Add to that list "Most Compassionate Physician Award," "America's Top Plastic Surgeon," "Patients Best Choice Award," "America's Top Physicians," and "California's Favorite Physician Award." You have one of the more decorated plastic surgeons in Southern California.
Call us at  949-515-0550, or contact us today to set up your tummy tuck consultation. Be sure to review Dr. Sajjadian's tummy tuck before and after photo gallery to see some of his actual patients' results.